Wall Posting
December 12
Ah, if it isn't Clocksboy DerKlox himself. I'd be lying if I said your art was just amazing, it's phenomenal what you can do with a simple mirror, and some abstract work. I'm very impressed at how you make such simple art, yet make it so complicated. I look forward to more art of yours.
November 28
How long does it normally take you to finish a drawing?
Kloxbyn

@Kloxbyn
Hello, Gabby! My completion times are all over the place. Everything from my general mood, motivations, style goals, intended conveyance, etc., effects how fast I draw and paint. But to give you some idea, the last drawing I did "BYN 27", took me at least 3-4 hours to complete (actual working hours). For that drawing, I spent most of my time on color composition. I tried at least 3-4 color variations (originally, I used a bright blue/red/green palette).
November 28
Show more comments
November 16
Hey can i ask how you set up your canvas before you do your amazing art schemes... your really freakin awesome. BTW i would go regular detailed black and white for the old comic book feel
Kloxbyn

@Kloxbyn
Thanks. More often than not, I use 2 layers (1 background and 1 foreground) but beyond that, my "set up" varies from piece to piece.
November 13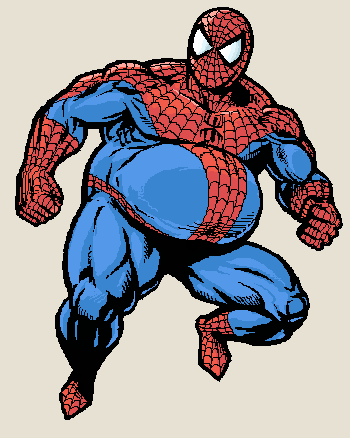 Chubby Spider-Man
Stan Lee was an amazing writer and artist, he'll be missed. One of my earliest online drawings was of Spider-Man, pictured here (I used an oekaki applet). Just to be different, I made him look really chubby. I drew this 14 years ago, when oekaki applets were relatively new (at least, to me they were).
Show more comments
November 13
Show more comments
November 05
So, how do you pronounce your name? Is it like, Clocks-Bin, or Clo-Bin?
Kloxbyn

@Kloxbyn
Clocks-Byn. It's a combination of my other names. [Cloxboy DerKlox > Kloxboy > Kloxbyn]
Katowice

@rat
Ah, I thought I was pronouncing it wrong, but it turns out I was right the entire time. Thanks man, love your work.
November 02
Show more comments
November 01
Show more comments
October 31
Hey, Your good at drawing gifs right? I need help or does that cost money like everything else?
Show more comments
Kloxbyn

@Kloxbyn
I might be able to help you but you need to be more specific than "I need help with impacts".
Kielko

@Kielko
Well what I'm trying to do is make one robot use a mace kinda thing and slam another one into the ground, so like would i make dust rise up from the ground when I slam it into the ground and stuff i just kidna need to know things to look out for like piston smoothness and stuff